REQUEST YOUR FREE CONSULTATION
How We're Paid
Most of the clients who come to us have never hired a personal injury lawyer before. We know that after an accident, it can be an incredibly stressful and confusing time. The accident wasn't your fault, and you've been suddenly hit with bills you haven't planned for. On top of paying these bills, you're wondering how you're going to pay an attorney.
At McGee, Lerer & Associates, our team believes in being upfront and transparent about our fee. Before you hire us, we want you to fully understand our fee, so that it's one less thing you need to worry about.
Consultations are Free
At absolutely no charge, attorneys Daniel McGee and Catherine Lerer are available to talk about your accident, discuss your legal options, and provide advice. We want to make it easy for you, so our lawyers make themselves available 24/7. You can call us and have an initial telephone conversation about the accident, or we can meet with you in person at one of our five office locations (Pasadena, Los Angeles, Long Beach or Santa Monica), or at your home or the hospital.
You Pay Nothing Upfront
You don't have to pay a penny when you first hire us. Our lawyers get paid after your case is settled, from the money we collect from the insurance company.
We handle all cases on a "contingency fee" basis. This means our fee is contingent on being able to collect money for you. If we are unsuccessful in getting you compensation from the insurance carrier, you pay us nothing.
We can't take every case. At McGee, Lerer & Associates, we focus on serious injury and death cases, and we only take a case if we feel confident in our ability to obtain financial compensation for our client. If yours is a case we can't take, we'll explain to you why we can't take it, and we'll make every effort to get you in contact with an attorney who can.
Our clients never cut us a check. Our payment comes out of the settlement reached with the insurance company.
Explanation of the Percentage We Charge
Most personal injury attorneys charge the same fee structure, which is set forth below. Assuming we are successful in recovering money for you, our fee will be a percentage of the money we collect for you. The percentage will be either 33 1/3%, 40%, or 25%.
33 1/3% if your case settles before a lawsuit is filed (or, if it's an uninsured motorist case, before arbitration is demanded). Most of the cases we handle fall in this fee category.
40% if your case settles after a lawsuit is filed (or after arbitration is demanded if it's an uninsured motorist case).
25% if our client is under age 18, i.e., a minor.
The benefit of a contingency fee is this:
Pay us nothing upfront.
Payment to us is contingent on winning.
Since we are paid a percentage of the money we collect for you, we are incentivized to secure you the largest amount of money possible. The higher the settlement we obtain for a client, the more money our law firm is paid.
Explanation of Costs
In working up your case, we may need to incur costs. Costs are checks we write on your behalf. For example, some medical providers charge us before sending us your medical records or bills. Or we may need to do hire an investigator to do an asset check on the defendant. Or we may need to hire an outside company to do an insurance trace on the defendant so that we can learn the defendant's policy limit. Sometimes, we incur no costs. If we do incur costs, after a settlement is reached, we are reimbursed for those costs from the settlement.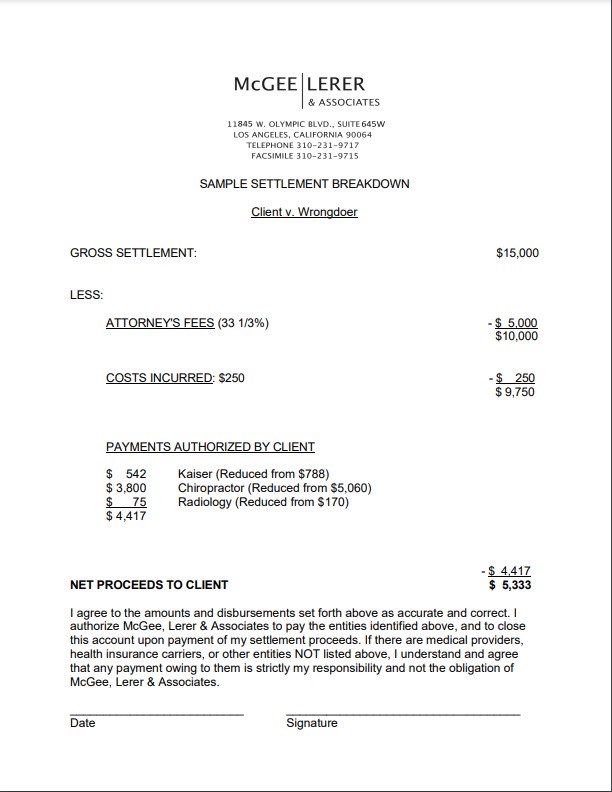 See a Sample Personal Injury Settlement Breakdown
To fully understand how the fees and costs work, and how the money is divided up at the end, you can click here to see a sample settlement breakdown.
Our fee comes off the top of whatever the case settled for, then we deduct any costs incurred. After that, we pay any money owed to doctors or health insurance carriers. The remaining balance goes to the client.
An extra service that we provide, at no charge, is negotiation of your medical bills at the conclusion of the case. As to any balance owing to your doctors, we will attempt to negotiate the bills down. 100% of any reduction we obtain will be paid to you.
Negotiation of Health Insurance Reimbursement Claims
If your health insurance carrier, including Medi-Cal and Medicare, paid for any accident-related medical treatment, they may demand reimbursement out of the settlement. Like with medical bills, our attorneys will attempt to negotiate down the reimbursement claim. Again, we do not charge for this service, and 100% of any reduction we secure will go to you.
---
If you or a loved one has suffered injuries in an accident, call (626) 642-9302 to speak with our Pasadena personal injury lawyers for a free consultation now.
---
Meet Our Team
Pasadena's Trusted Team
At McGee, Lerer & Associates, we have the skills and experience you deserve. Get to know our team by scrolling down and select the staff you would like to learn more about.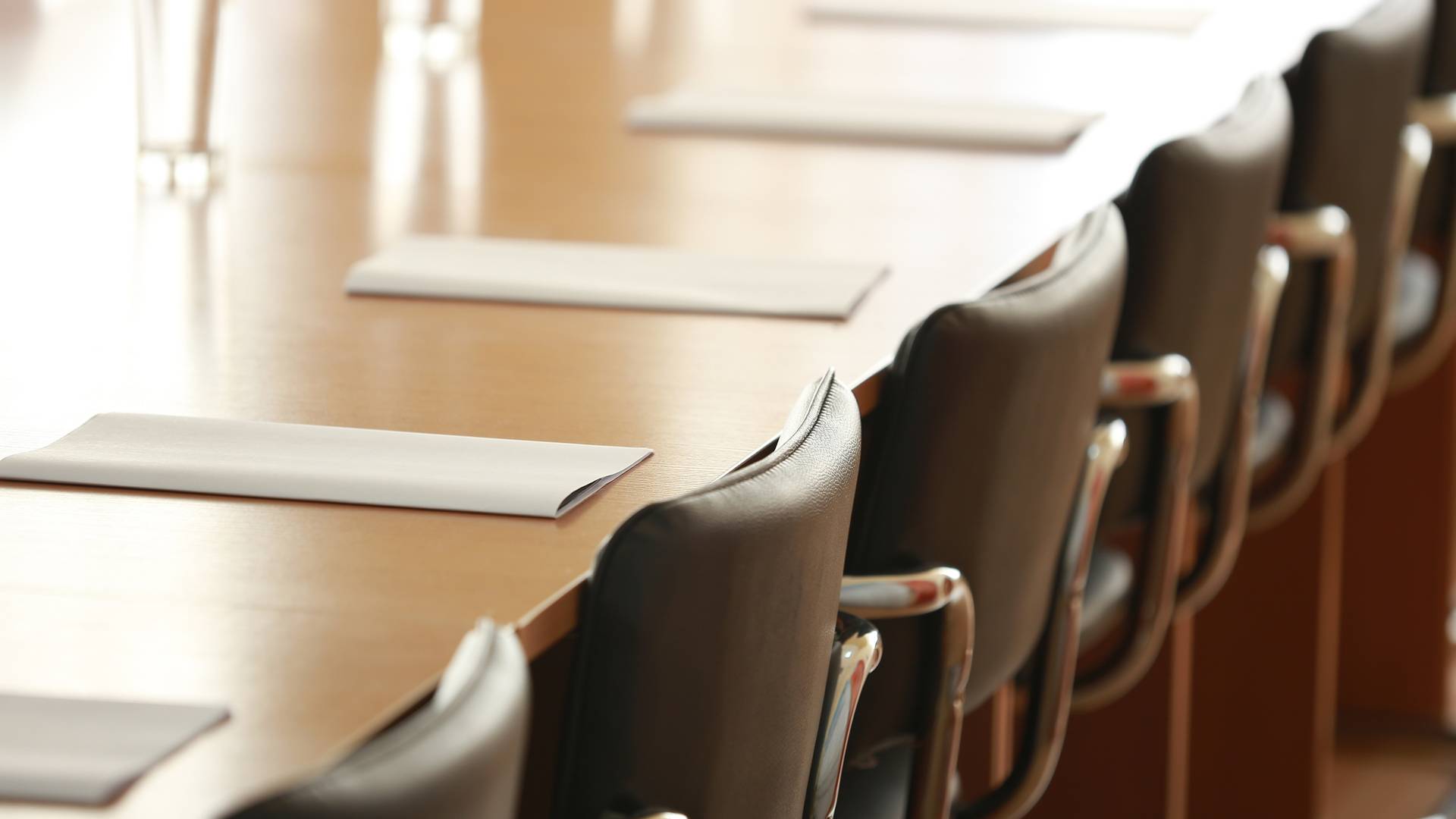 Why Choose McGee, Lerer & Associates?
What Makes Us Different
INDIVIDUAL ATTENTION

We take the time to understand all the unique factors of your case to achieve the best results.

NO FEES UNLESS WE WIN

If we are unsuccessful in our efforts to recover your compensation, you owe nothing. 

Learn more here.

24/7 AVAILABILITY

We can be available nights and weekends and come to you at the hospital or at home.

FIVE CONVENIENT LOCATIONS

We have 5 offices in Southern California - Los Angeles, Pasadena, Santa Monica, Long Beach & Valencia